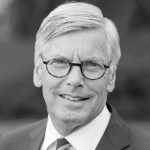 Dr. Henk Donker (Netherlands) Chair
04—Oral Health
In 2019 the Working Group drafted a White Paper on the importance of prevention policies and recommendations for future public health policies in oral care, which has been presented on various occasions, including during a CED meeting with the European Commission's Director-General for Health and Food Safety, Anne Bucher. 
In view of the new European Commission identifying vaccination among the top priorities for its mandate, several activities related to this topic also took place at Working Group level. Among these, the Working Group participated in the Coalition for Vaccination and in the high-level event, the Global Vaccination Summit. The Working Group agreed to participate in an advocacy campaign within the framework of the Coalition for Vaccination, which is meant to address healthcare providers. In light of all these developments and the increasing European and global interest in this topic, the Working Group also drafted a CED Resolution on Vaccination outlining CED's position on vaccination, especially HPV vaccine, its relationship with antimicrobial resistance and calling for support for vaccination programmes at national and European level.
Other topics that the Working Group has been focusing on include sugar and tobacco. The CED is now also working together with the ENSP (European Network for Smoking and Tobacco Prevention). The Working Group will also organise a public event on prevention, including vaccination for reducing AMR, in 2020.